Comic Books I collect for the thrill of it.
arranged in order of personal significance.
---
STAR WARS - Marvel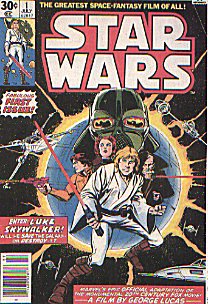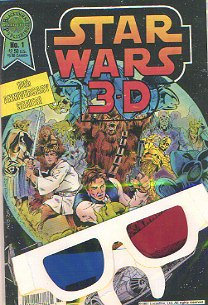 (I have a complete set of the 107 issues which were put out. Some issues were classics - some weren't so great.)
---
STAR WARS - Dark Horse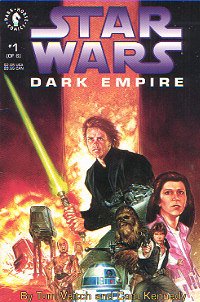 Dark Empire
Heir to the Empire
Droids
Splinter of the Minds Eye
Dark Lords of the Sith
Tales of the Jedi
plus various mini-series.)
I've since stopped collecting Star Wars comics, because they're getting waaaaaaay out of hand...
Star Wars Episode I: The Phantom Menace ruined Star Wars for me.
---
Doctor Who - Marvel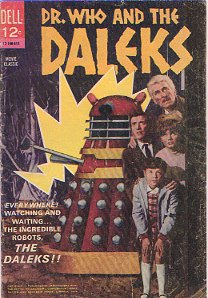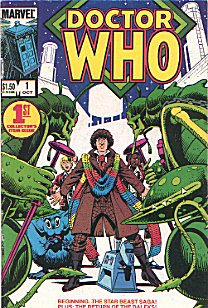 I've got the Marvel Premiere and the newer glossy adaptation, as well as Doctor Who Classic Comics and Doctor Who and the Daleks movie adaptation.
---
Roger Zelazny's Amber Series - DC Comics

Good artwork. Great stories. Unfortunately, DC only adapted the first two Amber Novels and then gave up. Bastards.
---
OZ - Caliber Comics
15-issue B+W series, plus OZ #0
Scarecrow special issue
Lion special issue
(was there a Tinman issue?)
OZ Freedom Fighters miniseries
Drawn in the style of the original OZ storybook artwork. Cool, creepy and horrifying; definitely not for kids!
---
Kilroy Was Here - Caliber Comics

I like the concept of this grim comic.
---
Captain Carrot and His Amazing Zoo Crew
The OZ - Wonderland War Trilogy - DC Comics
(This was too good and cool to pass up.)
---

Captain Power and the Soldiers of the Future
(Continuity Comics)
- based on the 80's TV show by Landmark Entertainment Group -
---
(I only collect #81 and up, because Abel is featured. I have about 40 issues. No, I don't have the Swamp Thing issue, except in the form of DC Silver Age Classics reprints.)
---
The Dreaming - DC Vertigo Comics
(Cain and Abel are back in the first story "The Goldie Factor". Great stuff! Further issues look promising.
---
Movie Adaptations:
2010
Blade Runner
Buck Rogers in the 25th Century
The Dark Crystal
Freddy's Dead
Jason Goes To Hell
---
Limited Series
(Dreadstar and Company, G.I. Joe Order of Battle, Hercules Prince of Power,
The Thing from Another World)



---
Notable Collectibles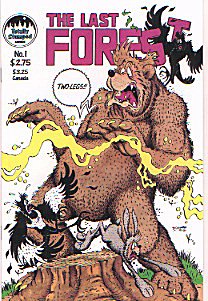 (The Adventures of Spenser Spook, Fafhrd and the Grey Mouser, Hagar the Horrible, The Last Forest, My School comic adaptation, ROM Spaceknight - Fabulous 1st Issue, Scooby Doo #1)
---
Comics I Used to Collect, but gave up...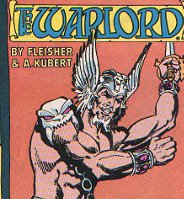 (Alpha Flight, The Avengers, The Warlord.)
---
This page of illustrated storytelling was last updated on Sunday, November 26, 2000