(1990, LT Films/Bryan Jenner Entertainment Industries)
Kevin has been dead for six years.
But what if someone invented a time machine to bring him back from the past to kill again in the present?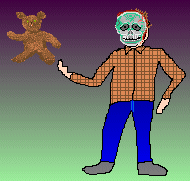 Running Length - 92 minutes
Number of victims: 29 Full Bodycount
Kevin Markson played by: Blaise Travis
Virgil Pembury played by: Rod Harper
Production Details
This film was made after three years of inactivity. I was hungry to do another one. I had graduated from SAIT and was working at Rogers Community Television as a Master Control Operator. I had invested the money in a home video camera. Most of the people I had known from school had gone off in different directions. At a meeting of the Ice Lords (a local Doctor Who fan club) of My School V, some members expressed interest in getting together and shooting another My School film. I jumped at the chance. I was raring to go. Another member of the club, Bryan Jenner, would help me write the script.
With so much interest in Doctor Who, we decided to add some science fiction elements to My School 7. We figured that Virgil Pembury was dead and gone (the actor Rod Harper had become a devote Christian and refused to ever be in one of my horror films again.) But we could bring back Eugene the Doom Bear. Kevin was dead too, but we wanted to bring him back badly. So we developed a plot of time travel and had Kevin return from the past. He would be swiped from the time period between My School part 1 and 2. A group of science students would be performing time travel experiments. But the meddling guidance counsellor Mr. Skorman would meddle with the equipment and bring back Kevin from the past? Why? Because Mr. Skorman was Kevin's uncle, who also had a psychopathic streak, and required Kevin's help in killing all the students of the school.